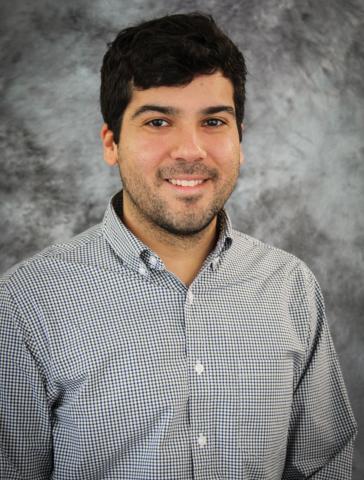 Graduate Student
aia2pc@mail.missouri.edu
Education
M.A. Sociology, University of Arkansas, 2015
B.A. Sociology and Psychology, University of Texas at Brownsville (now merged into The University of Texas Rio Grande Valley), 2012
Areas of Study
Latina/o/e/x Sociology | Race and Ethnicity | Space, Place, and Belonging | (Im)migration and Human Rights | Labor, Work, and Organizations | Community-Based Research | Qualitative Methods
Bio
Aaron Arredondo is a Ph.D. Candidate in Sociology examining the intersections of race, space, and migration across diversifying community-organizational contexts. His work has been published in Ethnic and Racial Studies and Sociological Inquiry. Aaron's research has received funding from the Labor Research & Action Network and the American Sociological Association. He serves on the ASA Student Forum Advisory Board and the UM System's Latinx Studies Program inaugural committee. 
Awards and Honors: 
National Science Foundation, "American Sociological Association Doctoral Dissertation Research Improvement Grant" (ASA DDRIG), Spatializing Critical Migration Studies: Racialized Spaces, Labor Rights, and Immigrant Justice Experiences in the Rural Midwest (2021-2022)
Participant Researcher, 2021 Intersectional Qualitative Research Methods Institute for Advanced Doctoral Students (IQRMI-ADS), Latino Research Institute, The University of Texas at Austin (Summer 2021) 
Student Forum Advisory Board (SFAB) Member, American Sociological Association (2020-2022)
Labor Research and Action Network, "New Scholars Research Grant," The Nuevo Midwest: Racialized Organizations, Community Life, and Workplace Experiences in a Diversifying Agroindustrial Town (2020-2021)
Missouri Community Development Society, "Donald Watts Littrell Community Leadership Scholarship" (Spring 2019)
Cambio Center Student Fellow (Honorary Fellowship), University of Missouri (2015-Present)
Alpha Kappa Delta (AKD) International Sociology Honor Society President, University of Arkansas (2014-2015)
Select Publications
Journal Articles
Arredondo, Aaron, and Juan José Bustamante. "White Spaces in Brown(ing) Places: Toward the Spatialization of Critical Immigration Studies." Ethnic and Racial Studies. doi.org/10.1080/01419870.2022.2030485.
Arredondo, Aarón, and Juan José Bustamante. "WhiteSpace, Brown Place: Racialized Experiences Accessing Public Space in an Arkansas Immigrant Community." Sociological Inquiry. doi.org/10.1111/soin.12273. 
Book Reviews 
Arredondo, Aaron. Growing Up Latinx: Coming of Age in a Time of Contested Citizenship, by Jesica Siham Fernández. Ethnic and Racial Studies. 
Arredondo, Aaron. Building Walls: Excluding Latin People in the United States, by Ernesto Castañeda. Contemporary Sociology.
Arredondo, Aaron. How Places Make Us: Novel LBQ Identities in Four Small Cities, by Japonica Brown-Saracino. Social & Cultural Geography.
Arredondo, Aaron. Global Heartland: Displaced Labor, Transnational Lives, and Local Placemaking, by Faranak Miraftab. The International Journal of Conflict & Reconciliation.