Anthology to come out April 15
When Chris Conner, visiting assistant professor of sociology at Mizzou, was a PhD student at the University of Nevada Las Vegas, he initially wanted to focus on LGBT+ community and neighborhoods. However, he faced issues finding an expert to work with as the topic of "Gayborhoods" was just beginning to emerge.
That didn't stop him, and now, on April 15, in partnership with Daniel Okamura, a lecturer in sociology at the University of Nevada Las Vegas, he is publishing his anthology titled "The Gayborhood: From Sexual Liberation to Cosmopolitan Spectacle" through Lexington Books. The book features the works of 13 established and emerging writers, most with PhDs, from five countries and three continents.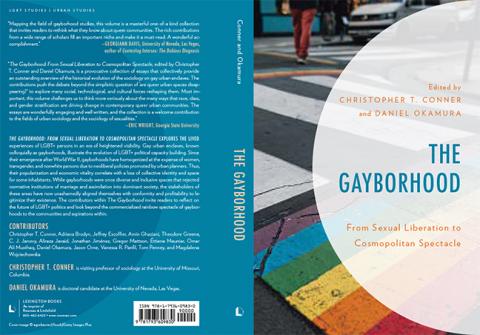 Gayborhoods Defined
Gayborhoods, as Conner describes them, is a collection of bars, shops, businesses … in one area that cater to the LGTB+ community.
"They are also places that tend to have a high concentration of LGTBs living there.," says Conner. "That includes iconic neighborhoods like Boystown in Chicago, and also The Grove in St. Louis, which a lot of people don't know about."
Once considered a refuge from oppression, they are now more economic drivers for local governments and corporate pockets.
The book, a critical analysis of gayborhoods, explains how these neighborhoods cater to the LGBT+ group, but also more and more to tourists, bringing in revenue from Pride Parades, gay festivals, performers and the like, which profits go into city coffers.
"A lot of gayborhoods are not mom and pop now, but corporately owned." This can lead to a loss of collective identity among those living there.
"It's OK for people to make money," Conner adds. "But how much? And who benefits?  In a lot of places, revenue is not benefitting the locals but a select group of people."
Three scholarly authors featured in the book — Magdalena Wojciechowka, Theo Green and Jonathan Jimenez — will continue this conversation while presenting at a virtual panel discussion through the Society for the Study of Symbolic Interaction, Aug. 5-8.
Conner, who grew up in Indiana, not only wanted to share what gayborhoods were like in urban areas, but also rural areas like where he was from. "The last chapter was written by C.J. Janovy, a journalist from Kansas who wrote an interesting book — 'No Place Like Home: Lessons in Activism from LGBT Kansas.'
"I think her voice is really important to the story," Conner adds. "A lot of times voices get left out of the picture. I think people's experiences differ in those areas. I have begun collecting my own data, which I don't present in the book, but do have some articles under review."
Lasting Effects
Conner says one take-away he hopes people get from reading the book is the racialized experience within these places — viewing them from a sociological standpoint. "I think if I could change anything, I would make them more accessible, more open, more represented."
Another take-away worth noting is the importance of studying spaces more earnestly in sociology. He says the study of gayborhoods is not taken as seriously as other research, though it should be. "I hope to shine a light forward for future research."