Work of Arredondo also appears in recent peer-review journal
Aaron Arredondo, a University of Missouri sociology doctoral student, has two recent achievements to his name – both worth scholarly respect and admiration.
His in-the-works dissertation "Spatializing Critical Migration Studies: Racialized Spaces, Labor Rights, and Immigrant Justice Experiences in the Rural Midwest," was awarded a 2020 American Sociological Association (ASA) Doctoral Dissertation Research Improvement Grant of nearly $16,000.
Arredondo, who is due to graduate in 2022, also recently co-published a scholarly journal article with Juan José Bustamante (University of Arkansas) in Sociology Inquiry on "White Space, Brown Space: Racialized Experiences Accessing Public Space in an Arkansas Immigrant Community."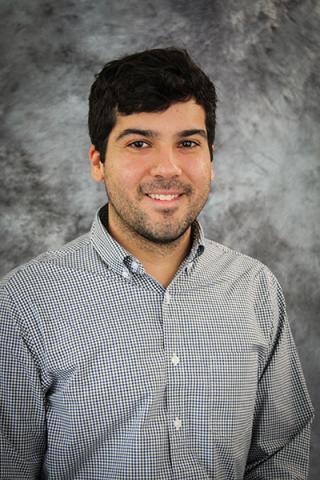 Diversity: At What Cost?
The journal article discussed issues similar to his dissertation: The transformation in the 1990s from homogenously white communities to those of racial diversity.
In the case of Springdale, Arkansas (journal), this was the result of labor pulls needed to fulfill the work of poultry processing. In Marshall, Missouri (dissertation), Latinxs migrated, also in the 1990s, to fulfill the needs of meat-packing.
In both cases, first generation immigrants did not achieve upward mobility. In Springdale (37.6 percent Latinx today), second-generation social and political empowerment was achieved, due to institutional efforts to improve the lives of Latinx migrants, along with notable efforts of the University of Arkansas to absorb and integrate the second generation into the region, Arredondo says.
There has not been a similar success in Marshall (16.6 percent Latinx today). Arredondo says both localities share the same history and backdrop: the changing of a white-dominated culture into a racially diverse one. However, in Marshall's case, second-generation Latinxs have yet to make evident their general attainment of valuable indicators that suggest upward mobility. The reason: A lack of ethnically-specific civic and organizational infrastructure, including the  absence of labor rights organizations, results in little political/social empowerment.
"And so, by addressing labor injustices and inequalities accessing community spaces, I hope that my work instructs equitable access and belonging for Latinxs within public spaces and work places."
Grant Funds Research
The grant monies for dissertation research will fund three basic needs: 1) travel expenses to the research site, 2) participant incentives, and 3) research assistants.  
"So, most of the Latinx participants are going to speak about their workplace experiences within meat-packing. The questions are designed to understand the underlying relationship between Latinxs and community organizations. And generally, about their involvement in community spaces and workplaces as well as how they interpret race relation."
Interdisciplinary Collaborations
The project is in collaboration with Mizzou's MU Extension, the Cambio Center (a research and outreach institute for immigrant communities in Missouri, which is housed at the university), labor unions, and more.
Soren Larsen, department chair for the geography department at Mizzou and affiliated faculty member in sociology, along with Arredondo, is a principal investigator on the project.
Larsen did preliminary work with Arredondo in Marshall in a mapping workshop conducted in summer 2017. "That is how we were first introduced to the community of Marshall and fulfilled the preliminary aspect of the current funded study," Arredondo says.
Two other research sponsors include Juan Bustamante, who was Arredondo's master's thesis chair at the University of Arkansas, and co-author of his academic article. Bustamante is an expert in Latinx and migration studies, and is providing Arredondo guidance on how to conduct field work with migrant populations based on his experience.
Corinne Valdivia, co-director of the Cambio Center, is collaborating with Arredondo with assistance providing transcriptions in Spanish, with the support of Spanish-speaking personnel. She is also professor of Agricultural Economics at Mizzou, and has experience doing research regarding labor and labor rights issues, specifically with Missouri immigrant populations.
Contributions to Scholarship and Community
Arredondo's research will add to the scholarly literature on immigrant life and community as well as offer recommendations for those who work with immigrant communities to better focus efforts to enhance immigrant wellbeing and belonging.
"I feel very optimistic about the project because of the support and peer recognition that has derived from my dissertation project," Arredondo says. "I am hopeful and optimistic of the impact it will have on community relations in Marshall. And that it will support many in the Latinx community in overcoming evident abuses in the workplace based on their racialization as exploitable people."
Larsen agrees, Arredondo is doing a great job on the project: "Aaron's research on the racialization of Latinx space in Marshall has it all: an innovative interdisciplinary theoretical framework applied to a compelling empirical study right here in the Midwest. I am really proud of Aaron and all the work he has done, both in the field and at the proposal-writing table, and am honored to be a small part of his research."
"This funding is very impressive and it will support excellent and important research," says Sociology Interim Chair Brian Houston. "Aaron has done a lot of hard work in pursuing this external funding as a doctoral student. And a rich network of support from across campus has helped make this compelling project possible."
Arredondo has a BA in sociology from the University of Texas at Brownsville (his hometown) and a MA at the University of Arkansas. He joined the PhD program at Mizzou in the fall of 2015.