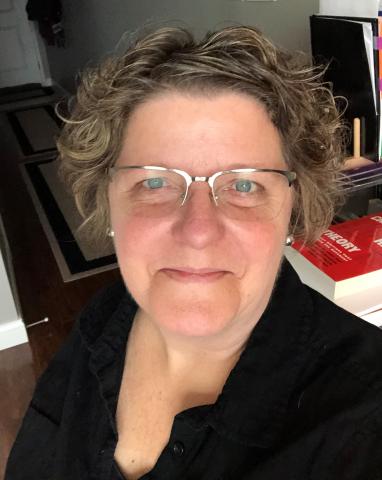 Graduate Student
sedv4b@mail.missouri.edu
Education
M.A. in Sociology, Arizona State University 2018
B.A. in Human Services, Columbia College 2017
Research and Teaching
Broadly, my research is concerned with the sociology of law, specifically structural and institutional violence at the intersections of economic, racial, and gender-based inequities.
My planned dissertation employs mixed qualitative methods to explore our understanding of police, prosecutorial, and judicial discretion as it intersects with the triad phenomena of money bail, pretrial incarceration, and guilty pleas. I am exploring how these interactions reproduce inequities in pretrial processing within the criminal legal system at large and specifically within Missouri's 13th Judicial Circuit.
This exploration necessarily examines the intersections of criminal legal systems and structures – particularly matters of policing practices, minimum sentencing, and judicial and prosecutorial discretion – with family circumstances, economics, environment, and historical influences. The first stage of my research will be interviews with the various actors who comprise the courtroom workgroups, including judges, bailiffs, prosecutors, and defense attorneys. Theoretical perspectives such as identity theories, critical race theory, and symbolic interactionism are particularly helpful to interpreting these phenomena.
Teaching
My pedagogical philosophy is student-centered, with particular attention to accessibility and different learning styles. The pandemic has provided an opportunity to explore ways that technology helps some students living with many types of disabilities while also creating a more isolation for all. I am presently pursuing a Graduate Certificate in College Teaching to more fully inform my approach to teaching in any environment. The following is an abbreviated list of my teaching experiences thus far.
Spring 2022        Graduate Instructor, SOCIOL 1650 Social Deviance Online (16-week)
Fall 2021              Teaching Assistant, SOCIOL 1000 Introduction to Sociology
Summer 2021     Graduate Instructor, SOCIOL 1650 Social Deviance Online (8-week)
Spring 2021        Teaching Assistant, SOCIOL 1000 Introduction to Sociology
Fall 2020              Graduate Instructor, SOCIOL 3310W Social Psychology (Writing Intensive) Online
2020                     Teaching Assistant, SOCIOL 3310W Social Psychology (WI) Online (self-paced; 6-months)
Spring 2020        Teaching Assistant, SOCIOL 3600 Criminology
Fall 2019              Teaching Assistant, SOCIOL 1000H Honors Introduction to Sociology
Fall 2019              Teaching Assistant, SOCIOL 2950 Social Research I
Past Presentations:
August 2021, The Society for the Study of Social Problems, session entitled "CRITICAL DIALOGUE: Racial Justice, Reconstruction, Abolition, and the Criminal Justice System-THEMATIC," Paper entitled, "Presumed Guilty: Precedent, Politics, and the Pretrial Punishment of the Poor via Money Bail" 
March 2021, Midwest Sociological Society Annual Meeting, Poster, "Pretrial Detainee Debt: A Critical Analysis of National, Missouri State, and Boone County (MO) Jail and Courthouse Fees"
Past Professional Experiences:
Managing Partner, The Seasoned Gourmet, Wilmington, NC, 2006-2016
Personnel Records & Systems Manager, United States Army, 1982-2004