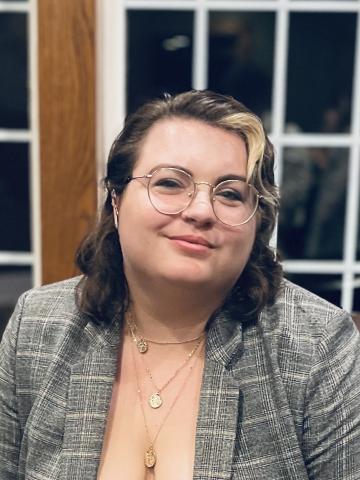 Graduate Student
aflq58@mail.missouri.edu
Areas of Study
feminist theory 

queer theory & queer of color critique

critical race theory

critical university studies

biopolitics and neoliberal politics

culture & (social) media

sex and sexualities
Bio
I (they/them) am a Ph.D. candidate at the University of Missouri. I received my B.A. in Sociology and Communication from the University of South Florida and a M.A in Sociology from the University of Missouri. My broad research interests are gender, race, sexualities, intersectional inequalities, political economy and culture & media. My dissertation examines the contemporary 'crisis' of the neoliberal university through a discourse analysis of 'diversity and inclusion' among student protests, the alt_right, and administration over the last several years. I am invested in critically analyzing systems of power and the re-articulations of inequalities in today's sociopolitical landscape, along with the possibilities of coalitional politics both inside and outside the academy.
Select Publications
Select Publications
"'Racism Lives Here:' Queering the Neoliberal University Through Choreopolitical Antiracist Activism" Alexis F. Lewis and Kelcea Barnes. chapter accepted in forthcoming anthology Politics As Public Art: The Aesthetics of Political Organizing and Social Movement
"Still I Rise: How Marginalized Members of College Campus Mark Space," Activist History Review. November 2019 Issue. https://activisthistory.com/2019/11/08/still-i-rise-from-the-basement-to-beyond-how-marginalized-members-of-the-college-campus-community-mark-space/
Select Conference Presentations
2021 - "Diversity Logics in the Neoliberal University: A Queer of Color Critique" Paper Presentation. Midwest Sociological Society. Annual  Meeting. Virtual.
2020 - "Bitch in Heat: How narratives about estrogen and menopause construct risk, Alexis F. Lewis and Emily Murray. Round Table. [University of Missouri. Sociologists For Women in Society Annual Winter Meeting. San Diego, CA.
2019  - "Risky Classrooms: A Feminist Pedagogy of Risk to Transcend 'Safe Space'" Paper presentation, Women and Gender Studies Graduate Student Conference. Annual Conference in Columbia, MO.
2018  - "Queer Student of Color Activism in the Age of the Alt-Right" Women and Gender Studies Graduate Student Conference. Annual Conference in Columbia, MO.
2017 - "Experiences of gender nonconforming undergraduate students of color in campus organizations" Paper Presentation. Midwest Sociological Society. Annual Meeting. Minneapolis, MN.
2017 - "'Maybe That Part of Me Doesn't Need to Shine': Negotiating Intersectional Identities on College Campuses" Paper presentation at Society for  the Study of Symbolic Interaction. Annual Conference in Montreal, Canada.
2017 - "'You Can't Do It All': Experiences of Queer Student Leaders of Color Navigation Intersectionality in Campus Organizations". Paper presented at Midwestern Sociology Society. Annual Conference in Milwaukee, WI.