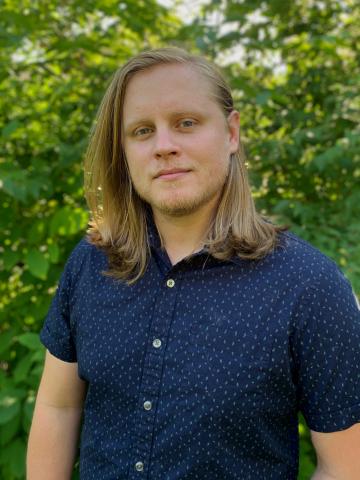 Graduate Student
japqn5@mail.missouri.edu
Education
M.A., 2017, University of Missouri
B.A., 2012, Georgetown College
Areas of Study
Nature, Place and Embodiment
Postcolonialism and Decoloniality
Environmental Inequalities
Ethnography
Diaspora and Transnational Migration
Critical Indigenous Studies
U.S. Imperialism in Oceania
Settler Culture
Bio
Aaron Padgett holds an M.A. in Sociology from the University of Missouri-Columbia and a B.A. in Sociology with emphasis in Sustainable Community Development from Georgetown College. Before beginning graduate-level work, he volunteered with AmeriCorps in Kentucky and with WorldTeach in Chuuk, Federated States of Micronesia (FSM).
His master's paper focused on a joint-resolution policy between the FSM and the United States. Examining policy documents, press briefings, political speeches and newspaper articles, the paper utilized discourse analysis to explore the ways in which colonial forms of power were rearticulated/reproduced during a period of self-determination throughout Micronesia. His doctoral research moves toward a focus on Micronesian diaspora communities in the American Midwest to understand how Micronesians navigate notions of place, home, belonging, and identity in light of enduring legacies of colonialism and U.S. imperialism in Micronesia.
Awards and Honors: 
Cambio Center Graduate Student Fellow, 2016-present
Select Publications
Manuscripts in Progress:
Padgett, Aaron., Don Willis, and Kristen Kalz. "Runit: Where Nuclear Legacies and Climate Change Converge in the Pacific."
Scott, Rebecca., and Aaron Padgett. "'It's Grandpa's Land': Property, Heteropatriarchy and Environmental Disaster," in Deviant Hollers: Queering Appalachian Econormative Ecologies, edited by Zoie McNeill and Rebecca Scott.
Book Reviews:
2016. Review of David W. Kupferman, "Disassembling and Decolonizing School in the Pacific: A Genealogy from Micronesia." The International Journal of Conflict and Reconciliation 2(2). 
Recent Conference Presentations:
Padgett, Aaron. 2018. "Being (T)here: Critical Autoethnography and the Decolonizing Self." Annual meetings of the International Congress of Qualitative Inquiry. University of Illinois at Urbana-Champaign.
Padgett, Aaron. 2016. "Rethinking Subaltern Positionality: Discourses of Power within Micronesian-U.S. Decolonizing Relations." The 9th International Conference of the Consortium of Transatlantic Studies and Scholarship. University of Central Missouri, Warrensburg, MO.
Padgett, Aaron. 2016. "Decolonizing Pedagogy: Critical Cosmopolitanism and the State of Education Reform in Chuuk, Micronesia." Annual meetings of the Midwest Sociological Society (held jointly with the North Central Sociological Association). Chicago, IL.