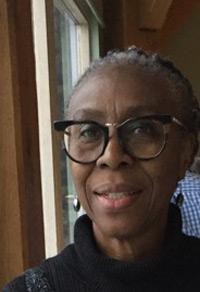 Professor Emeritus
340 B Middlebush
573-882-7265
pearcei@missouri.edu
Education
Ph.D., 1977, Brown University (Medical Sociology).
Research and Teaching
Medical Sociology and Anthropology, Women, Children and Health, Globalization & Development Studies and Human Rights.
Tola Olu Pearce has taught courses in the Sociology of Health and Illness, Social Inequalities, Race, Ethnicity and Transnational Inequalities, Women, Development and Globalization, The Politics of Reproduction and Fertility Control, Race and Ethnic Relations, Gender and Human Rights in Cross-Cultural Perspective., and Global Feminism.
Pearce's work examines the impact of colonialism, development programs and globalization. Her publications critique development theories, and review the impact of neoliberal policies on Africa.  With over two decades of research on women in the informal sector in southwestern Nigeria, she examines survival strategies, health care behavior and the impact of government policies. More recent research on Charismatic Christian movements in Nigeria also reveals her longstanding concern with agency, syncretism and human rights.
Awards and Honors: 
Provost Award for Leadership in International Education (2013);
MacArthur Foundation Award (summer research) 1993;
Northwestern University Fellowship (1992-3);
Ford Foundation Grants (1984-6 &1989-1992);
University of Missouri/University of Western Cape faculty Exchange Grant (1999); University of Missouri research Council Grants (1997 & 2008)
Select Publications
"Dispelling the myth of pre-colonial gender equality in Yoruba culture" Canadian Journal of African Studies. 48: (2) 315-331 (2014).
"Reconstructing Sexuality in the Shadow of Neoliberal Globalization: Investigating the Approach of Charismatic Churches in South Western Nigeria" Journal of Religion in Africa. 42:345-368 (2012)
"What Lies Beneath: Foundations of the U.S Human Rights Perspective and the Significance for Women" in In Our Own Backyard Human Rights, Injustice and Resistance in the US (edited by Armaline, W et al) University of Pennsylvania Press Pp. 201-211 (2011).
" Women's Rights" in The Leading Rogue State: The US and Human Rights. (edited by Blau, J et al) Paradigm Publishers. Pp. 75-83 (2008).
Gender and Governance in Africa: A Conceptual Framework for Research, Policy and Monitoring. UN-ECA, Report (2000).
" Keeping Children Healthy: The Challenge of Preventive Care Among Women in South-western Nigeria" Journal of Comparative Family Studies XXX1-2: 263-279 (2002)
Child Health in Nigeria: Impact of a Depressed Economy (co-edited with Falola),
Avebury Ashgate Publishers (1994).
"Generating an Income in the Urban Environment: The Experience of Street Food Vendors in Ile-Ife, Nigeria."Africa 58-4:385-400(1988).